Welcome to the Pip Parent Panel… A community space we've created for piptastic families to find a little bit of inspiration to help make everyday family life that little bit easier, healthier & more piptastic! From Pip's top tips on how to keep the kids entertained & healthy during school holidays, to exclusive competitions & piptastic sneak peeks, to published insights on nurturing little ones long-term healthy eating habits! It's our goal to work with you and do our best to get kids celebrating organic fruit & veg! If you have any top tips you would like to share or any feedback at all please drop a line to pippanel@piporganic.com!
To hear Pip's latest hints, musings & insights on family life sign up to our Pip Parent Panel…
We promise never to spam your inbox with any nasties, we'll just send you updates on things that we think that as parents you would like to know. We know you are the experts & always welcome your thoughts, so from time to time, we might also send you product samples, online surveys & exclusive invitations to our special Pip Parties!

Pip Kids Panel!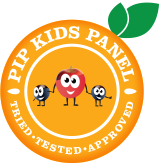 Knowing how vital the all important thumbs up from little pipsqueaks is we've also developed the Pip Kids Panel! To ensure we are always delighting little one's tastebuds & imaginations and helping them to develop healthy eating habits! Activities include taste testing some piptastic products, letting us know your thoughts on kiddy topics and even exclusive invites to our special Pip Parties & new product launches! Rest assured all correspondence between Pip and our Kid Panel recruits will goes directly to the parent, carer or guardian!
If you would like your little pipsqueak to take part in the Pip Kids Panel please email pippanel@piporganic.com